I haven't done a Friday's Letter's post in a while so I thought that this would be a great way to get my thoughts out today.
Dear Bachelorette weekend in Little Rock, I am so very excited for girl time with sisters, cousins and friends. I have high hopes that this will be an excellent weekend and I cannot wait until quittin' time today!
Dear sisters, I am probably the most excited about our road trip this evening! I cannot remember the last time we all took a road trip just us sisters (have we ever?). I have a giant box of gold fish and I trust you have the playlists because it will be one fun ride!
Dear Little Rock Half Marathon, I'm not sure you will be able to live up to this past weekend of racing but I do not doubt for one minute you won't be enjoyed. I have no idea how well I will run, my legs are tired and we plan to have a good time Saturday night but I can promise to give you the best I've got. I'm also excited to have my friends out there cheering on the course!
Dear Karen, I am so excited that you are doing the 10K on Sunday! I know you have been working hard to make healthy living a priority and I think it is great that you are doing this! I am so proud of you for committing to it and it will be great to have you at the starting line with me.
Dear Alex, In light of our discussions (ahem) on how much I spend on racing I found it very sweet and very thoughtful that you surprised me by signing us up for a

trail race

for the end of April. I'm not sure how well my legs will hold up given that the race is 7 days after my marathon and I am quite flattered that you think me capable of a 30K therefore that's what you signed me up for but we will see what race day holds. Either way I appreciate the very sweet gesture and I'm glad you are planning to run with me again!
Dear Rachel, I'm glad that you will be doing the aforementioned trail race with us! I hope you like trail racing and I cannot express how glad I am that you want to keep running! Alex said to tell you that training starts on Monday (but I don't think I'd take his word on that, he hasn't trained for anything, ever!)
Dear The Band Perry, I am so glad you are coming back to Dallas in May! So excited! The

last time was a bust,

so let's make this time a little bit better, what do you say?
Dear February, you were very, very good to me in the running category. I logged my highest mileage month EVER with 103 miles!! I also broke

the 60 minute 10K

and got to cross the finish line with my sister for

her first half marathon.

I'm not sure any of that can be topped, so thank you for a great month.
Dear March, my birthday is coming and for the first time ever I'm not looking forward to you. I'm not ready to get older and all of a sudden I feel really, really old. Please don't come so quickly next year.
Dear Mom, I am so excited to go see Kari Jobe and Chris Tomlin with you on Friday night. Love, love, love them! It should be a fabulous night of praise and worship and I am so glad we have the opportunity to go.
Dear Dave Ramsey, as of 9:18 this morning I am now DEBT FREE!!!! Debt free. Debt free. I just love the sound of that! And thanks to Alex for helping me reach that point. (You can read his blog post here about our

frugal living

and some of the financial decisions we have recently made that have allowed us to do this).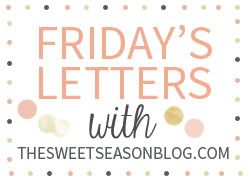 I hope everyone has a fabulous weekend! Happy Friday!