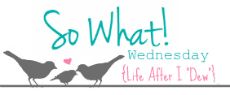 So what if it has been after 12:30 that I have gone to bed the past 2 nights; I just can't seem to fall asleep even though I am tired! Ok, this one may be becoming a problem….
So what if I overslept today and had about 10 minutes to get ready, at least my hair still looked decent and I had already picked out my clothes for the day, I did that when I couldn't sleep last night!
So what if I haven't done laundry in 3 weeks, I have plans to get it done this weekend, really I do.
So what if I haven't worked out in a week, a whole week! My excuse is that I have been sick lately and haven't had much energy, also I just haven't made it a priority and it should be; that ends today, I will be running tonight, sleep deprivation and all.
So what if I only ran 1.6 miles last week. Yep, that was all, super pathetic and lame I know! But in my defense my treadmill is still broken (and clearly there is nowhere else in the whole wide world that I can go and run….)
So what if my treadmill being broken makes me depressed. I know I should just bite the bullet and take my booty outside or to the gym but I had such a nice relationship with my treadmill, it truly is a haven for me at the end of the day. Judge me all you want but it was perfection to be able to run at home on it.
So what if I am ready for August to be over; I absolutely love fall and everything about fall and to me September means fall is here!
So what if I already have a game plan as to what I want to eat and see when I go to the state fair this year. Never mind that it's still 6 weeks away. Aside from Christmas, the Texas State Fair is my most favorite thing in the world and I am so excited about it!! So excited!
So what if I forgot that I still need to write a monthly recap for April before I am finally caught up on my blog and so what if I forgot to post all the pictures from our road trip to Indiana back in May. I will get to them eventually, you'll read them and be confused as to why I'm finally posting them and all will be well in the world. It's ok, it's my blog and it can be completely random and out of order (oh that hurt my little type-A heart to say!)
So what if I am really boring and have done hardly anything worth talking about in the past few days and weeks and that is why you are reading this crazy ongoing rambling post…..